---
Introduction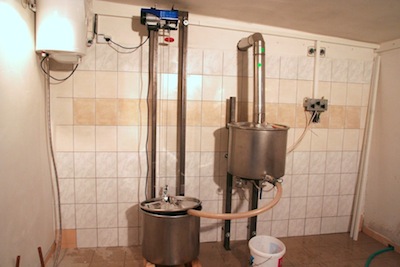 This gravity-run brewery was designed to replace homebrewing in a standard kitchen environment. It's biggest advantage is simple construction without hard-to-clean and easy-to-break components such as pumps. It is operated on gravity principle. From the beginning it was constructed in such a way that it can be easily and comfortably cleaned and sanitized. It has very little spatial requirements for placement into a cellar, garage or shelter. The construction is attached to a wall.
Basic characteristics of the brewery
Our gravity-run brewery is a two-vessel brewery with the brew kettle fixed to the construction and liftable lauter tun with inserted wort strainer. It is connected to the wall using a steel construction. The lauter tun is lifted by an electric hoist.
Volume: 60l of wort
Material: anticor
Movement: electrical
Heating: oil and electricity or gas
Brewing process: infusion, single-step decoction, multi-step decoction